Newsweek Magazine
2010–2012

Role: Associate Art Director


June 2011 cover design on the rise of radical politics in India.
Cover design on the wave of immigrants from north Africa seeking a foothold in Europe. Photograph by
Alex Majoli
.
2011 cover design on the different environmental challenges facing developing and industrialized nations.
Description:
I joined the staff of Newsweek at an interesting time in the magazine's history. The 80-year-old publication had just been bought by Sidney Harman for $1.00. That's right, one dollar. Mr. Harman hired legendary editor Tina Brown to helm the new Newsweek, and she hired Dirk Barnett to be the new Creative Director. I joined the magazine's art department under Dirk.

In my 2 years on staff at the news magazine, I designed covers, features, and special issues. We also managed a complete redesign of the magazine, all the way up to the logo (RIP slab-serif!). Below are select covers, features, and spreads I designed.


---
Travel Special
May 2011
Art-direction and design of Newsweek's 'Travel Special' double-issue. The cover features a Mongolian yurt lit up at dusk, photographed by
Andrew Rowat
.
Above: Art-direction and design of the cover story on modern Mongolia. Text by Peter Pomerantsev.


Above: Feature article on the nature of travel in our hyper-global, increasingly crowded age. Written by Tony Wheeler, co-founder of Lonely Planet.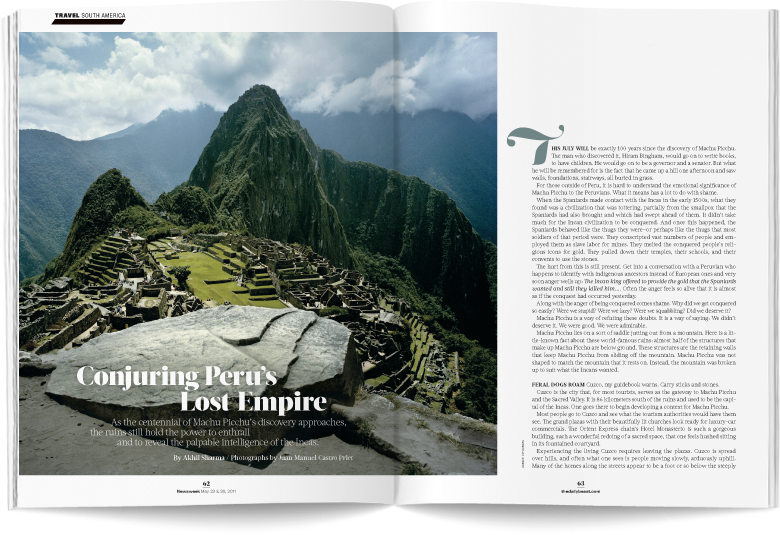 Above: Feature design on the lost ruins of Machu Picchu in Peru, for the special Travel Issue. Text by Akhil Sharma and photos by Juan Manuel Castro Prieto.


---
Magazine Features & Cover Stories

Above: Art-direction of a May 2011 feature on the Taliban's shifting strategy in Afghanistan after the death of Osama Bin Laden. Shot in black-and-white by photographer Alex Majoli.



November 2011
Art-direction of a cover story about an FBI mole revealing his life of infiltrating American far-right extremist groups. Portrait by
Robyn Twomey
.
Above: Art-direction of an April 2012 feature article by biologist E.O. Wilson on our tribal natures. Photographs by James Mollison from his series 'The Disciples.'



Above: Art-direction of a March 2012 feature article on Hollywood legend Rita Hayworth, written by fellow actor Frank Langella.